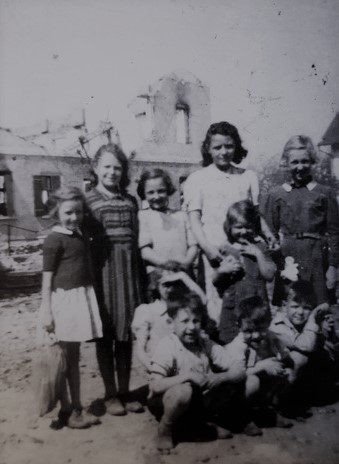 INVITATION
JOIN THE BAD WURZACH-ST HELIER TWINNING TEAM
VISIT BAD WURZACH IN APRIL 2020 FOR THE JERSEY INTERNEES' 75TH LIBERATION CEREMONY
Do you find Jersey's recent history fascinating, especially the 1940-1945 Occupation years ? Are you interested in cultural exchanges, meeting people from abroad with close ties to our island or helping to organise local commemorative and celebratory events or joining in entertaining our twinning partners when they visit Jersey?
Young and old are warmly invited to join the St Helier-Bad Wurzach Partnerschaft Committee.
which was set up in 2006 to strengthen cultural and historical ties with Bad Wurzach, the southern German town north of Lake Constance where 1186 islanders from Jersey were interned during WWII.
At this time we are beginning preparations for a special trip to Bad Wurzach in April 2020 to mark the 75th anniversary of the Internees' liberation on 28 April 1945. We are organising a group trip of about 30 Jersey folk to southern Germany comprising surviving Internees and their families, friends and other islanders interested in visiting this attractive, sleepy little German town and participating in the commemorative celebrations.
We can promise you a wonderful welcome in Bad Wurzach as well as moving commemoration ceremonies in the beautiful little Gottesberg pilgrimage chapel and in the cemetery where 12 Jersey Internees are laid to rest. During the cemetery commemorative service a single red rose is laid by a Jersey visitor on each of the graves. Amongst special events there will be a special day out to visit the surrounding beautiful countryside or to an attractive German city with evenings filled with lively German atmosphere and good food.
We would invite you to visit our Partnerschaft website for further background on our activities : https://www.sthelierbadwurzachpartnerschaft.com/. Please note that you do not have to be a resident of St Helier to join our Committee. The organisation has deep island-wide relevance and all islanders are welcome.
And importantly, if you are interested in joining the organised visit to Bad Wurzach in April 2020 please contact Clive Armstrong, the Committee Chairman on :
e-mail :- shbpartnerschaft@outlook.com