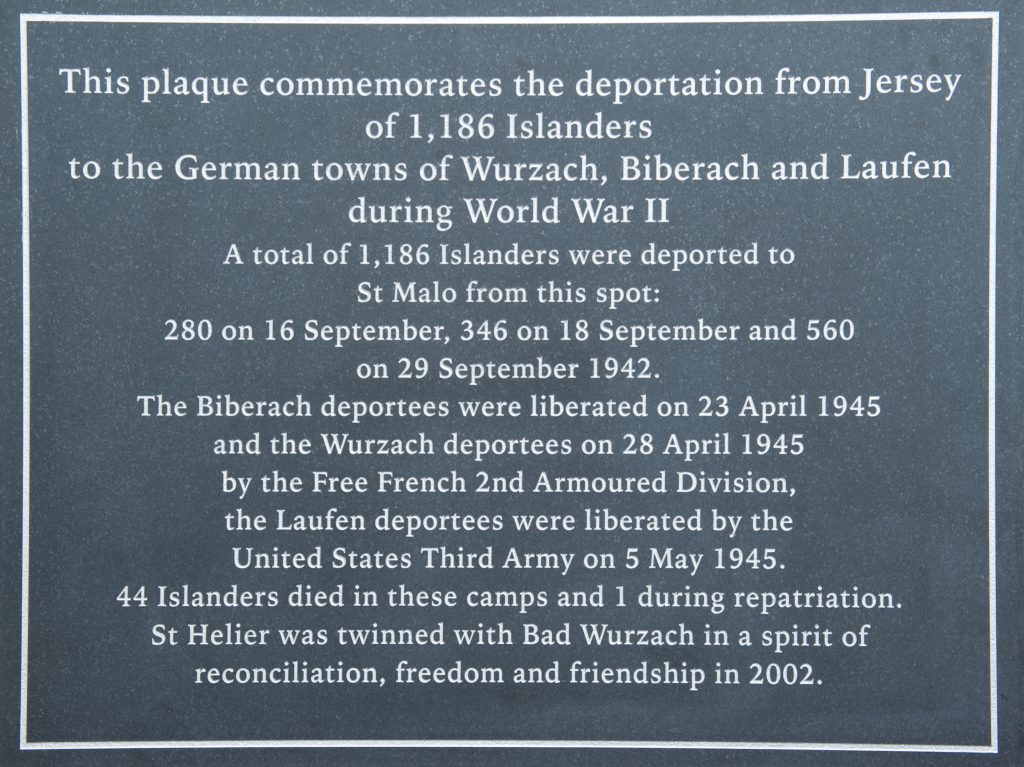 A plaque commissioned by the Parish of St Helier to commemorate the deportations of hundreds of men, women and young children in September 1942 was erected on Albert Quay on Monday 16th September.
The event was attended by some 150 people, including 13 former internees together with their family members and close friends, former politicians and members of the Ports of Jersey. The Constable of St Helier, Simon Crowcroft, gave the opening address which was followed by narrations from 5 former internees who recounted their memories of the day they were deported 77 years ago, many of them just young children. Their memories surrounded the knock on the door of their homes late at night by a German soldier to the harrowing train journey across Europe to their final destination in southern Germany; first Biberach and then on to Wurzach where they were to remain behind barbed wire until their liberation on 28th April 1945.
The plaque was unveiled by the Bailiff together with former internee, Mrs Pamela Tanguy; it was her idea to have the commemorative plaque.
Father Nick Berry conducted a short service of remembrance which was followed by the laying of a wreath by Sarah Journeaux, in memory of 12 former internees who did not return from their captivity – two of whom were young children. Angela Francey then read an extract from Archbishop Desmond Tutu's Handbook "Reconciliation".
The Concordia and JustSing! Choirs under the direction of Hugh Lincé.
Light refreshments were served following the service courtesy of the Parish.
Bad Wurzach Unveiling of the memorial plaqe on the Albert pier in memory of those islanders of English decent who were deported to Bad Wurzach, Biberach & Laufen in September 1942 The former internees gather around the plaque Picture:TonyPikephotographer.com

Bad Wurzach Unveiling of the memorial plaqe on the Albert pier in memory of those islanders of English decent who were deported to Bad Wurzach, Biberach & Laufen in September 1942 The Bailiff, Sir William Bailhache Picture:TonyPikephotographer.com

Bad Wurzach Unveiling of the memorial plaqe on the Albert pier in memory of those islanders of English decent who were deported to Bad Wurzach, Biberach & Laufen in September 1942 The Bailiff, Sir William Bailhache, unveils the plaque with former internee, Joan Tanguy Picture:TonyPikephotographer.com

Bad Wurzach Unveiling of the memorial plaqe on the Albert pier in memory of those islanders of English decent who were deported to Bad Wurzach, Biberach & Laufen in September 1942 Internee Tony Barnett Picture:TonyPikephotographer.com

Bad Wurzach Unveiling of the memorial plaqe on the Albert pier in memory of those islanders of English decent who were deported to Bad Wurzach, Biberach & Laufen in September 1942 Constable Simon Crowcroft Picture:TonyPikephotographer.com