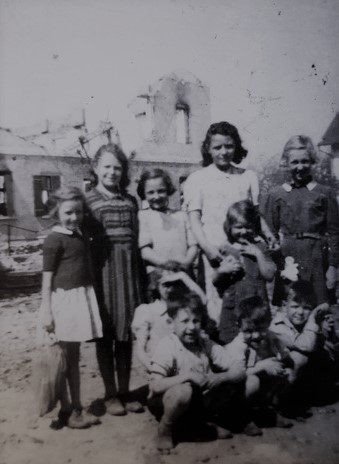 INVITATION
JOIN THE ST HELIER – BAD WURZACH TWINNING TEAM
VISIT BAD WURZACH FOR THE JERSEY INTERNEES'
75

TH

LIBERATION CEREMONY IN APRIL 2020
T

HE SIGNIFICANCE OF BAD WURZACH IN JERSEY'S RECENT PAST
THE HISTORICAL BACKGROUND
Jersey's involvement early in WWII 
In wartime, events seem to evolve through a relentless chain reaction. Jersey, just a pinprick on the world map became directly caught up in world events on 28 June 1940 first with the bombing of the harbour by the German Luftwaffe then on 01 July 1940 after surrender of the oldest possession of the British Crown to a senior German military officer. There followed 5 years of isolation and German military occupation.
Islanders' lives and their uneasy routines were subsequently abruptly shaken on Tuesday 15th September 1942 by a directive published in the Jersey Evening Post addressed to all British nationals not born in the Channel Islands between 16 and 70 years of age to report for duty the next day, together with their families, at the Weighbridge with a minimum of luggage. Original summons documents were also delivered personally to each household affected.
Why did Jersey become caught up in wider WWII events  – the Iranian connection
Following the German invasion of Russia on 22 June 1941 and with the German Army steadily advancing through the Soviet Union, in August 1941 in the interests of securing Iranian oil fields and safeguarding Allied supply line, British and Soviet Union troops invaded Iran.
For many decades Iran and Germany had cultivated ties as a counter balance to the imperial ambitions of Britain and Russia. From 1939 to 1941 Iran's main foreign trading partner had been Germany which had helped Iran open modern sea and air communications with the rest of the world. Despite Iran's claims of neutrality, Britain feared Iran was supporting Nazism and protested that a German advance in the region would threaten British communications between India and the Mediterranean.
Inevitably demands from the Allies were made for the expulsion of German residents in Iran (mostly workers and diplomats) but these were initially refused by the Shah.  Ultimately the German legation and women and children from the expat community were permitted to travel to Europe and German men of fighting age (18-45) were rounded up, most preferring British to Soviet control. A few went into Soviet hands and were shipped to Siberia. The British then separated out Jewish Germans who could remain in Iran, the remainder being sent to India for internment, some even ending up in camps in Australia.        
Hitler's intervention
Upon learning of British action in Iran, Hitler was furious and complained somewhat hypocritically of invasion of a neutral country and internment of German citizens, his immediate reaction being to find out what reprisals were possible.
The German Foreign Office's response was that British people in the Channel Islands were effectively interned as they could not leave without permission, a rough estimate indicating that about 2,000 men in Jersey had been born in the United Kingdom. This was short of the 5,000 that were needed if a ratio of 10:1 was to be applied according to German figures. More accurate lists of men were demanded and finally women and children were included and by 10 November 1940, lists were submitted by the Island authorities.  However, in Berlin the order was passed from department to department but remained buried until September 1942 when a Swiss attempt to organise an exchange of injured soldiers and civilians resulted in Hitler being reminded that the British civilians were still in Jersey.  Inevitably, on discovering that his orders had not been complied with, Hitler reissued the order.
In the Islands, everything then moved very quickly. The order arrived in Jersey on 15 September 1942.  The same day a meeting was held with the Bailiff and Parish officials, and a notice appeared in the local paper. Because island authorities refused to serve the notices, soldiers required parish officials to show them where to go, and served the deportation orders on the first batch of people that evening.
Deportation
In total about 2000 Channel Islanders (either non-resident and caught by the outbreak of war or men between 16 and 70 years of age not born in the Channel Islands together with their families) were deported in 3 sailings via a convoluted route across France, Belgium, Luxembourg and Germany to first Biberach arriving finally at the small town of Wurzach in the marshes north of Lake Constance.
The internment years in the Schloss Wurzach  :
www.sthelierbadwurzachpartnerschaft.com
Reconciliation :
Twinning with that small, but for Jersey islanders, significant German town in Baden-Württemberg in the summer of 2002 has hopefully brought both communities closer together and some closure on those difficult times has been achieved.
OUR INVITATION TO YOU:
If you find Jersey's recent history fascinating, especially the 1940-1945 Occupation years or are interested in cultural exchanges, meeting people from abroad with close ties to our island, helping to organise local commemorative and celebratory events or joining in entertaining our twinning partners when they visit Jersey then we invite you to join our team. 
Young and old are warmly invited to join the St Helier – Bad Wurzach Partnerschaft Committee which was set up in 2006 to strengthen cultural and historical ties with Bad Wurzach, the southern German town north of Lake Constance where 1186 islanders from Jersey were interned during WWII. 
Bad Wurzach visit in April 2020 : At this time we are beginning preparations for a special trip to Bad Wurzach in April 2020 to mark the 75th anniversary of the Internees' liberation on 28 April 1945.  We are organising a group trip of about 30 Jersey folk to southern Germany comprising surviving Internees and their families, friends and other islanders interested in visiting this attractive, sleepy little German town and participating in the commemorative celebrations.
We can promise you a wonderful welcome in Bad Wurzach as well as moving commemoration ceremonies in the beautiful little Gottesberg pilgrimage chapel and in the cemetery where 12 Jersey Internees are laid to rest.  During the cemetery commemorative service a single red rose is laid by a Jersey visitor on each of the graves.  Amongst special events there will be a special day out to visit the surrounding beautiful countryside or to an attractive German city with evenings filled with lively German atmosphere and good food.
We would invite you to visit our Partnerschaft website for further background on our activities :  https://www.sthelierbadwurzachpartnerschaft.com/.  Please note that you do not have to be a resident of St Helier to join our Committee.  The organisation has deep island-wide relevance and all islanders are welcome.
And importantly, if you are interested in joining the organised visit to Bad Wurzach in April 2020 please contact Clive Armstrong, the Committee Chairman on :
e-mail : clive.partnerschaft@outlook.com.